Hey All!!
I wanted to share an award with you that I received today from Jessica at Craft Corners.
She gave me an award for Editors Pick for my projects and my blog! She actually mentioned my post for My Cricut Craft Room from yesterday! How exciting!!!
Here is my blog award: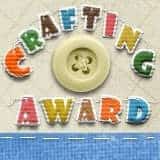 I will be sure to display it proudly!!!
OK all! Hope to catch you all Craftin' and Stampin'!